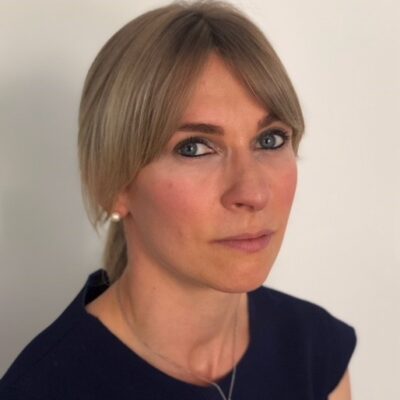 "
You don't know whether you can do it, or whether it's the right move for you, until you try, so why not give it a go?
"
'product specialist return to work' is the search term Hannah Wilcock used to find her role through The Return Hub after a career break.  Prior to her break, Hannah had enjoyed a successful career at JP Morgan in equity sales.  She had really thrived on the challenge of her role in the City; the daily highs and lows of the stock market, the relationship building and the culture.
Whilst she was on her career break, she missed the industry and the daily interaction her career had brought her. Her aim was always to eventually return to financial services and she remained up-to-date with her sector via her network, reading the financial press every day and actively trading her own portfolio.
Before Hannah started searching for a role, she performed some research on her next career move.  She embarked on some positive conversations with her previous employer but the timing wasn't quite right. Using feedback from her network of ex-colleagues and ex-clients she began to view her skill set through the lens of now being a working mother.  They suggested she consider a product specialist role with an established fund managers and this prompted her job search and brought her to The Return Hub.
"The Return Hub were really supportive with my return – Dominie was brilliant.  She gave me some good advice on my cover letter and interviewing.  We had some really helpful conversations and Dominie prepped me really well for the interview process. Having an extra level of insight into who I was meeting and what they'd ask helped me to ensure I was well prepared. Since I started the role of Product Specialist at ICG, the team at The Return Hub have been in touch a few times.  I feel as if they're really invested in me and that seems to be unique."
Since joining ICG during lockdown, Hannah has had to navigate some challenging workplace terrain but ICG have provided some good training.
"As this is a new type of role for me, I just have to put my hand up and ask silly questions.  I used to love relationship building in my previous role and I have leveraged that skill set here.  I pick up the phone as much as possible and when the office opened up between lockdowns, I went in to put some faces to names."
Hannah's top tip to anyone contemplating returning is that you don't know whether you can do it, or whether it's the right move for you, until you try, so why not give it a go? She was away from the City for seven years and understands that other career returners may find a return daunting.
* The Return Hub is an executive search firm that places professionals who want to relaunch or transfer their careers with employers in the financial services sector. They also advise on and implement practical strategies that companies can use to target, assess, hire and support returning talent.
The Return Hub supports financial services leaders with their career development via The Career Academy: an online platform with tools to restart and advance careers.
Find out more about how The Return Hub can help you with options to Relaunch or transition your career at www.thereturnhub.com and join us on LinkedIn, Facebook,Twitter, Instagram